Illuminate Your Airbnb Experience: The Magic of Glow-in-the-Dark Star Ceilings in Guest Bedrooms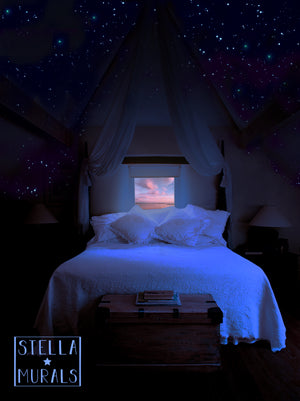 In the competitive world of Airbnb rentals, creating a memorable and enchanting experience for your guests is essential. If you're looking to elevate your hosting game and provide a unique touch that will leave a lasting impression, consider adding glow-in-the-dark star ceilings to your guest bedrooms. Not only will these celestial wonders captivate your guests, but they'll also create a sense of wonder, relaxation, and tranquility. Let's explore why incorporating glow-in-the-dark star ceilings in your Airbnb can be a game-changer.
Ignite the Imagination:
Imagine your guests walking into their room, tired from their journey, only to be greeted by a breathtaking night sky right above them. The moment they turn off the lights, the room transforms into a celestial wonderland. The glow-in-the-dark stars and constellations on the ceiling will instantly spark their imagination, taking them on a journey among the stars. Whether they're families with children or couples seeking a romantic getaway, this magical feature will leave them awe-inspired.
Create a Relaxing Oasis:
Traveling can be exhausting, and guests often seek a comfortable retreat where they can unwind and recharge. The soft glow of the star ceiling creates a serene and peaceful ambiance, offering a space for relaxation and rejuvenation. Your guests can lie back and let the gentle starlight wash over them, creating a tranquil atmosphere that promotes a restful sleep. The soothing glow will make them feel like they're sleeping under a starlit sky, enveloped in a sense of calm and tranquility.
Unique and Memorable Experience:
Standing out in the competitive Airbnb market is crucial, and providing a memorable experience is the key. Glow-in-the-dark star ceilings offer a unique feature that sets your rental apart from the rest. Your guests will appreciate the thought and attention to detail that went into creating a magical environment. The wow factor of a starry night sky above their heads will leave a lasting impression, ensuring they not only enjoy their stay but also become raving fans.
Simple Installation and Maintenance:
Implementing a glow-in-the-dark star ceiling in your Airbnb is easy. Once installed, the stars require zero maintenance and never lose their ability to glow. It's a hassle-free addition that offers long-term value.
Positive Reviews and Increased Bookings:
Delighting your guests with a glow-in-the-dark star ceiling is sure to generate positive reviews and word-of-mouth recommendations. Travelers are always on the lookout for unique and exceptional stays, and your Airbnb will stand out as a result. The enchanting experience you provide will encourage guests to share their experience with friends and family, leading to increased bookings and occupancy rates. It's a win-win situation for both you and your guests.
 So, why settle for a standard guest bedroom when you can provide a mesmerizing and unforgettable experience with glow-in-the-dark star ceilings? Elevate your Airbnb, stand out from the competition, and create a magical haven that will leave your guests in awe.

Browse Collections. 
"This is my third purchase from StellaMurals, and, as always, the stars, moon and comets are Amazing! I put these on the ceiling in my guest room so that when my sister visited over Christmas, she would have beautiful nighttime skies over her bed. She was quite surprised when she turned out the lights, and she absolutely loved them! They are awesome."

"I stayed in a hotel in Innsbruck that had stars on the ceiling similar to these. I stayed up for so long just looking at them in amazement. Brought back the kid in me. I'm not sure if they were from Stellamurals, but they looked identical to the ones I bought, and after googling for them, Stellamurals was the only seller I found.

I ordered them straight away and they arrived a few weeks later. From NZ to Austria that was expected. I've just put them on my ceiling now and they're so good.

Even as an adult I find them fascinating. I can only imagine if I was a child. I only had the large, spikey drawn stars when I was young, but these actually feel like you're looking at the night sky.

Highly recommend these to anyone who's a kid at heart, has kids of their own, or is just a lover of stars!"

---
---
Leave a comment
Comments will be approved before showing up.