How can I safely charge a Glow in the Dark Mural?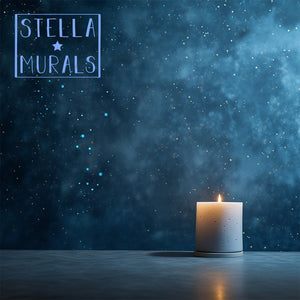 Luminous glow in the dark murals and star ceilings can turn your space into an awesome star scape once the lights go out. However, caution should be used when charging glow murals, especially in children's rooms.
The Glow in the Dark Magic:
Glow in the dark murals contain phosphors that absorb and store light energy when exposed to light. When the lights go out, these stored photons are released, creating a glow. The key is providing a sufficient source of light to charge the phosphors, but not all light sources are created equal.
UV Lights: Proceed with Caution
UV lights, can be harmful to the eyes and skin with prolonged exposure. While charging glow in the dark murals, it's essential to prioritise safety. Exposure to UV rays may pose risks, especially to the delicate eyes of children. Never stare into a UV light if using in a master bedroom.
Why Not in Kids' Rooms?
Prolonged exposure to strong UV light can lead to eye damage and maybe even skin issues. As such, UV lights and tubes should be avoided as a means of charging glow in the dark art in children's rooms.
Other Easy Ways to Charge Glow in the Dark Murals Safely
1. Sunlight:
Harness the power of sunlight to charge glow in the dark star ceilings. Install them in a well-lit room during the day, allowing the phosphors to absorb daylight. Come night-time, witness the magic unfold as the stars come out.
2. Bright torch or flashlight:
Use a bright torch or flashlight for fast targeted charging and to see the colours pop. I sometimes use a 3000 lumen flashlight but it can get hot. Ensure high powered flashlights are not given to children.
3. Energy-Efficient Bulbs:
Opt for energy-saving LED bulbs , compact fluorescent room lights to illuminate the mural just before bedtime.
Not recommended:
Old style incandescent bulbs or candles do not charge well. 
---
---
Leave a comment
Comments will be approved before showing up.