FIRST GLOW PAINTING EVER!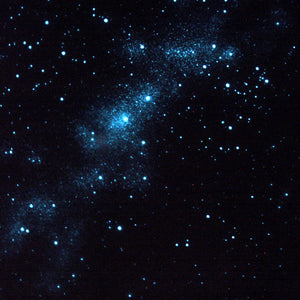 This was the first glow in the dark painting I photographed. It was the Southern Cross and the pointer stars.
I painted it tacked onto the wall in my lounge and photographed it in the laundry as that was the easiest room to blackout the window. It was a rental and somehow I didn't even care, I also painted star ceilings in three rooms in that house. I think they were painted over when the house was fixed up after the Christchurch earthquake. I bet there's quite a lot of glow paint still in that house though, you think you're being careful with it until the lights go out and then you see you've dropped it nearly everywhere and somehow splashed it all over the walls.
Every one of the stars in the Southern Cross poster is astronomically correct. I used to paint them for the first year until I realised most people didn't really mind! I even painted astronomically correct glow in the dark ceilings in people bedrooms like that! It took around four or five hours and it was exhausting. I loved it though! 
---
---
Leave a comment
Comments will be approved before showing up.